Transparent corrugated polycabonate sheets like multiwall Exolon® multi UV Onda and trapezoidal Exolon® multi UV Greca are a popular roofing and cladding material. The sheets are made of high quality polycarbonate material that is known for its durability, strength and resistance to impact and weathering. The corrugated or trapezoidal design of these corrugated sheets provide additional strength and rigidity, making them ideal for use in a variety of applications.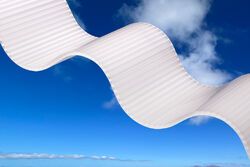 Exolon® multi UV Onda
What are the main advantages of corrugated polycarbonate & trapezoidal sheets?
One of the main advantages of corrugated polycarbonate sheets is their good natural light transmission. This makes them an ideal choice for roof and façade applications such as continuous daylighting systems for industrial buildings, single skylights, greenhouses and canopies. They can also be used in combination with sandwich panels and metal sheets.

Installing corrugated polycarbonate sheets & trapezoidal corrugated sheets.
The corrugated sheets are lightweight and easy to handle, making them simple and easy to install without any profiles. They can be easily cut to the required size and shape to provide a custom fit for any application. The corrugated polycarbonate sheets are available with a UV protective coating on one side, making them resistant to UV radiation and therefore ideal for outdoor use.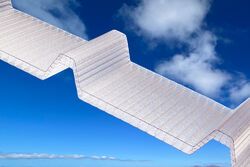 Exolon® multi UV Greca
Overall, polycarbonate corrugated / trapezoidal sheets are a versatile and durable roofing and cladding material that offers a range of benefits. Whether you want to bring natural light into a building or provide insulation and protection from the elements, these sheets are the perfect choice in terms of quality and price.