The 2012 UEFA European Football Championship took place in Poland and Ukraine. The "PGE Arena Gdansk" played a central role in the Championships. The high-tech polycarbonate multiwall sheets Exolon® multi UV was utilized for it to create a dramatic architectural design and concept.
For the "PGE Arena Gdansk", Exolon Group sheets manufactured more than 45,000 square meters of Exolon® multi UV 3X25 ES, a special sheet for stadiums. The sheets are used both for roofing over the stands and the outer shell of the stadium – something that has never been done before. Every single multiwall sheet was coloured in six different colors ranging from white to amber.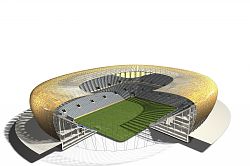 By installing the Exolon® sheets horizontally, the building's outer facade (which is visible from miles away) achieves its striking design. Every multiwall sheet was hermetically sealed on the open edge to ensure that it was waterproof.
Due to high wind loads and safety regulations, the plates, which are up to 6 m long and 880 mm wide, were enclosed in a special frame structure.
The arena reflects the colors of amber, which is a hallmark of the region. For this reason amber is also known locally as the "gold of the Baltic Sea". "The designers specified the colors, and Exolon Group produced them thanks to our innovative compounding technology.
Picture source: RKW Rhode Kellermann Wawrowsky Architektur + Städtebau
Artur Rys ARDUKT Inzynieria Transportowa